Katie's Story
Although it sometimes feels like yesterday, it was actually back in 2008 that I took the plunge and bought a vineyard here in the Languedoc.
I'd lived and worked here for many years. But it's one thing to work as I did in the wine trade, quite another as I hadn't to make wine.
True there have been moments – mainly when my back was killing me and the unforgiving Tramontane wind was threatening to blow me all the way to Toulouse – that made me wonder.
But not often or for very long, because things couldn't really have gone much better. People who should know have said some very nice things about our wines. They've won awards. I've bought more vineyards. We've started our very own wine club. And as well as falling in love with area, I fell for fellow wine maker, Jean Marc – a case of Me and Monsieur Jones, you might say.
All that and to be living in a beautiful part of France where there are Summer days when the air can be drenched in thyme, lavender and rosemary aromas that some- how find their way into the wines.
Magique.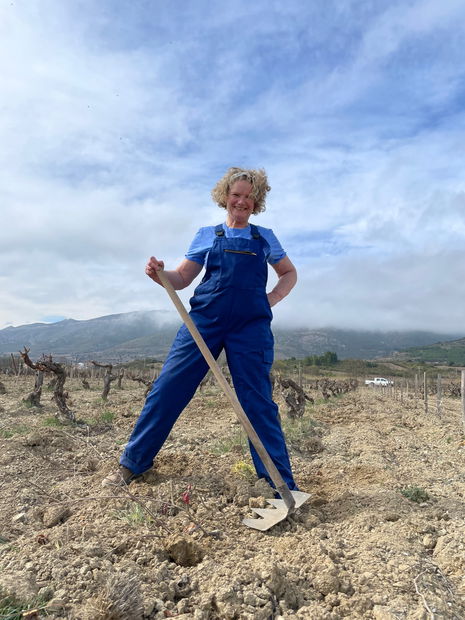 Vineyards
To say I look for vineyards no-one else wants would only be a slight exaggeration.
Most other growers around here wouldn't be interested in my modest 12 hectares of vines spread across vineyards in Maury (my first), Paziols and Tuchan.
The sites are too small, too remote and too much like hard work. Exactly the way I like them. I'm looking for low yields with high quality, and the rather poor, sloping ground that the very old, traditional vines cling to gives me just that.
It means most of the work including harvesting has to be done by hand, but the results are more than worth the toil.
And you can always take the occasional break, sit on one of the dry stone walls under an olive tree and take in the view.
Magnifique.
Wine making
Domaine Jones started out with a wine making philosophy to which we've stuck - to vinify the vineyards separately, rather than mixing, so we know the quality coming from each.
This method requires a lot of space, so we've bought something that has it in abundance, an old train shed
Finished in 1905 in the village of Tuchan, it was used as overnight accommodation for the Tuchan Express, a steam train that could reach speeds of up to 5mph.
Closed in 1935, this much-loved local landmark, once renovated, is to have a new lease of life as our winery.
And a high-security one at that, given the spiteful vandalism we suffered in 2013 when we lost our entire white wine production.
To those reading who came to our rescue at the time, a big...
Merci.
Wines
We only grow traditional grape varieties, some of them extremely rare.
In the red corner: Carignan, Grenache Noir, Lledoner Pelut and Syrah. In the white corner: Grenache gris, Grenache blanc, Macabeu, Muscat and Carignan gris.
Carignan, for example, fond of our poor, dry limestone and schist, has always provided the backbone to Fitou, for which the Languedoc has long been known.
While Lledoner Pelut, otherwise rather unkindly known as Hairy Grenache, once plentiful and thriving here, came as a bit of a find when we took over an old vineyard in Tuchan.
View the full range.
Most of them, like our 100 year-old Carignan, have been happily growing here for centuries and today, with a little help from us, make wines we'll humbly sum up in one word -
Merveilleux.